OVERHUNG LOADS
The ratings in the catalog do not account for any kind of loading external to the unit, except that which is connected directly to the power source. If the unit is to be driven by a "V" belt and sheave, chain and sprocket, or any other means other than a direct connection, overhung loads must be considered.
Curtis Machine Company does not list overhung load ratings due to the variety of drives and loading. However, Curtis Machine can calculate overhung load ratings. In addition to horsepower, speed and shaft extension length, please provide the following.
A) Pulley or sprocket diameter Driver.
B) Pulley or sprocket diameter Driven.
C) Location of load clockwise in degrees.
D) Overhung load dimension.
E) Rotation of overhung shaft
F) Chain or Belt centerline spread.
G) Please note which gearbox shafts are power in (Driver)and power out (Driven).
Please send the above information to us by e-mail, fax,
snail mail or our toll free phone number and we will calculate it for you.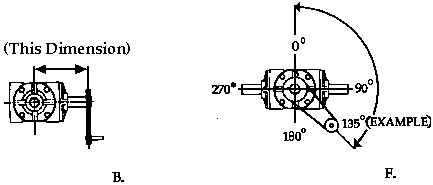 ---
Company History | Meet Management | Engineering Data | Application / Order Form | Charts / Tools | Employment | Contact Curtis Machine | Related Links
---
GEARBOX MODELS:
STANDARD PARALLEL SHAFT GEARBOXES:
OPEN BEVEL GEARING:
SPUR AND HELICAL GEARS:
GEARBOX FLANGE OPTIONS:
---