Snail Mail: P.O. Box 700, 2500 E. Trail Street
Dodge City, KS 67801-0700
E-Mail: curtis@curtismachine.com
Phone#: 1-620-227-7164 Fax#:1-620-227-2971 Toll Free in the USA: 1-800-835-9166
---
MODEL 250CD
---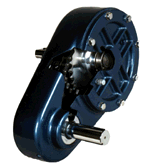 RATIO: THE 250 CD IS AVAILABLE IN : 1:2.77, 1:1.38 and 1:1.92 All steel sprockets and chain meet all A.N.S.I. standards.

SHAFTS: The Model 250 Chain Drive standard shafts are 1 1/4" (30mm) in diameter, and are made of high tensile strength steel.

CASE OR BOX: The one-piece grey iron case is precision machined for the bearings and seals. To eliminate possible oil leakage, no drilled and tapped holes enter the oil reservoir.

COVER PLATE: A one-piece grey iron cover plate houses the bearing behind the large sprocket on the assembly.

BEARINGS: Deep groove, precision ground radial ball bearings are used through out in this unit. One bearing is located on each side of the chain sprocket, and provides the optimum arrangement for life, strength and rigidity.

OIL SEALS: A durable double lip seal is installed on each shaft.

OIL RESERVOIR:12 oz. AGMA 5EP GEAR LUBRICANT IS RECOMMENDED

WEIGHT: The 250 Chain Drive assembly weighs approximately 50 pounds.

SUGGESTED USES: The 250 Chain Drive can be used on grain transfer applications, grain dryers, or other applications requiring a parallel shaft drive.

---
Company History | Meet Management | Engineering Data | Application / Order Form | Charts / Tools | Employment | Contact Curtis Machine | Related Links
---
MODELS:
---